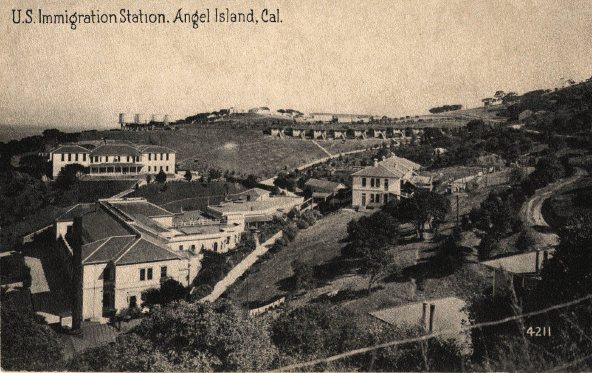 "I am distressed that we Chinese are in this wooden building ... I should regret my taking the risks of coming in the first place."
Carved on the walls at the Immigration Station on Angel Island in California are hundreds of poems like this one, etched into the wood by Chinese immigrants waiting for permission to enter the United States between 1910 and 1940. Thanks to the Chinese Exclusion Act of 1882, some were detained there for months on end.
Though it's sometimes called the "Ellis Island of the West," the Angel Island Immigration Station was less welcome mat and more barbed-wire fence.
Recent arrivals on America's western shores were processed there, and although some were quickly sent on to friends and family on the mainland, others, primarily from China, were put through serial interviews and physical exams and held until they were either allowed to enter San Francisco or were deported.
The Exclusion Act was sparked by popular belief that immigrants were taking jobs from native-born Americans, and it was meant to curtail their numbers.
But they continued to come, not only from China but also from Japan, Russia, South Asia, Korea, Africa and even Portugal. When ships landed in California, arrivals were sent to Angel Island, about 350,000 of them over 30 years.
The larger, woodsy neighbor of the infamous fortified Alcatraz, Angel Island is part of the California state park system, with hiking and biking trails, wildlife, tram and Segway tours, a campground and stunning views of San Francisco, about three miles away, and the town of Tiburon, just a half-mile offshore. The immigration station's barracks, a two-story yellow and white building that stood empty for decades, was slated for demolition in 1970 when a park ranger discovered the writing on the walls.
Last spring, after a three-year renovation project, it reopened to the public. On a tour, ranger Casey Lee explained the island's history while pointing out various carvings throughout the building. It was dark inside the wooden barracks, despite the rare San Francisco sun outdoors. Some carvings were faintly visible under up to seven layers of paint. In addition to writing, there were pictures of birds, trees, a horse and rider, even elaborate altars carved into the walls.
The dorm rooms have been restored to their appearance in the early 1900s. In the women's dorm, fold-up metal bunk beds are stacked three high in long rows. It looks as though the occupants have just stepped out for a moment: Laundry hangs on makeshift clotheslines, chopsticks and mahjong tiles rest on a bed, open suitcases and chamber pots are tucked beneath the bunks. Along the wall are more suitcases, holding objects that people from different countries would have brought. One representing China, Lee explained, was donated by a woman whose mother came through Angel Island. This was her suitcase, her papers, her clothes.
Two of the men's dorm rooms are similarly adorned. But Room 105, where many Chinese men were held, is the jewel of the station. The lighting is soft. The walls have been lacquered. It is here that the poems are most easily visible, even though some are only fragments and there are doubtless more still hidden. Around the room, panels translate the poems into English, and visitors can listen to recordings of them being read in both languages.
There are prayers, messages, pleas and political slogans. But mostly there are poems. In 1999, the collected, translated poems were published in "Island: Poetry and History of Chinese Immigrants on Angel Island, 1910-1940" (University of Washington Press).
The poems are either well-known verses that the detainees knew by heart or original compositions describing their experiences.
Some are heartbreaking in their longing for home or freedom ("I suffered misery on the ship and sadness in the wooden building"); others decry the United States government ("I thoroughly hate the barbarians because they do not respect justice"). Long before blogging or Twitter, even in the absence of pen and paper, despite the worst of circumstances, people found a way to express themselves.
"This is a message to those who live here not to worry excessively.Instead, you must cast your idle worries to the flowing stream.Experiencing a little ordeal is not hardship.Napoleon was once a prisoner on an island."
The Washington Post